Thunder players shine during HJHL All-Star Game
---
---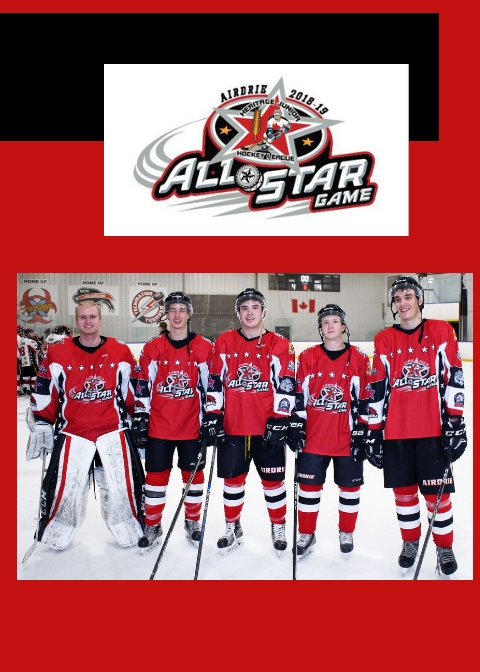 ---
Thunder players shine during HJHL All-Star Game
BY SCOTT FISHER
January 6, 2019
The HJHL all-stars put on quite a show on Sunday afternoon.
And the Airdrie Techmation Thunder all-stars, playing in front of a packed crowd at the Ron Ebbesen Arena, stood out from the crowd in their team's 5-4 loss.
Linemates Rylan Plante-Crough and Jordan McConnell had a goal and two assists apiece and defenceman Jason Wenzel also scored for Team North.
"I couldn't seem to buy one all game," Plante-Crough said. "I finally got one in the third when Jordan set me up.
"It was great to meet everyone from around the league.
"And a lot of people came out to support the boys."
Team South tied the game in the final minute and then won it in a seven-round shootout when Medicine Hat Cubs Noah Irvine scored the lone goal of the showdown phase.
"Just like last year," Plante-Crough said, shaking his head. "A heart-breaker both times."
Thunder goaltender Ryan Simpson surrendered just one goal over the first half of the game, and made a number of spectacular saves.
One eventful series saw Simpson turn aside a clear-cut breakaway, get taken out of the net and then slide back into the crease to make a fantastic save.
"Our defenceman took me out," Simpson said. "Then I saw they had the puck and I was all the way in the corner.
"I was waiting for them to put it in the net, but when they didn't, I hustled back and was able to get it covered."
Simpson said he enjoyed his 30 minutes of action.
"There were a lot of talented players out there," Simpson said. "I thought our (Thunder) guys played really well."
Thunder head coach Derek Stamp said the overflow crowd was treated to an entertaining affair.
"It shows the kind of talent this league has," Stamp said. "Overall, I think everyone had a lot of fun.
"The Thunder organization did a great job hosting this game. It brought a lot of people in.
"Hopefully now that that exposure is there, it will translate into a lot of fans for our run down the stretch and into the playoffs."
The Thunder (28-2) host the Three Hills Thrashers (1-25-1) on Friday (8 p.m. at the Ron Ebbesen Arena).