McConnell earns HJHL weekly/monthly awards
---
---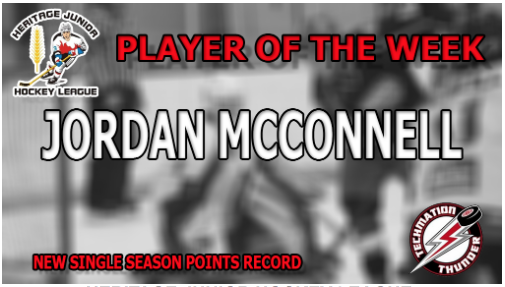 ---
McConnell earns HJHL weekly/monthly awards
Jordan McConnell's record-setting performance has earned him HJHL player of the week honours.
The Airdrie Techmation Thunder forward had four goals and 10 points to shatter the HJHL scoring record.
McConnell, who has 50 goals and 125 points, has been named player of the week four time this season. He was also chosen as HJHL player of the month for the fourth time this season.
Teammate Tyler Petrie was selected as last week's top player.
Rylan Plante-Crough and Brayden Dunn also previously earned the weekly honour.
Plante-Crough, who also reached the 50-goal mark last week, was named one of the month's three stars for the fourth time.
The Thunder (33-3) visit the Okotoks Bisons (Friday) and the Stettler Lightning (Saturday) to wrap up the regular season.
####
For more information:
Derek Stamp
Head coach, Airdrie Techmation Thunder
Derek.stamp@shaw.ca